Guideline of service "Profession – Kindness – Reasonable Price"
The restaurant of Royal Hotel serves breakfast and kinds of soft drink, fruit juices, as well as local specialities – kinds of fresh seafood at the request of the guests, birthday parties, meeting parties, parties, conferences organization service and barbecue party service.
Coming to Royal restaurant, valued guests will be really pleased with professional and kind service of the staff. In a warm, gentle space of the restaurant, we will bring delicious, warm and meaningful meals to valued guests together with your family, friends, relatives and partners.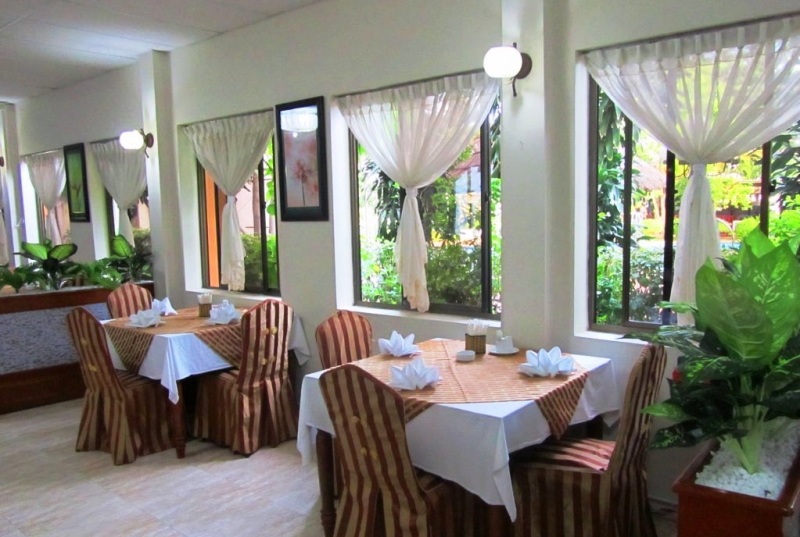 "Gardenview" restaurant serves Korean and pure Vietnamese food
Locating in the garden of the Hotel, with a gentle and pure space and diversified, rich food, suitable price with each object, the restaurant will be an ideal location so that you can give a reception for party, birthday party, contract signing ceremony, customer conference, meeting party and so on.
Opening time :
Breakfast: From 6:00 to 9:30 AM
Lunch and dinner: From 10:30 to 22:00 PM
" Dinning room" restaurant serves European food
It is an ideal location for public guests to relax, entertain, read the book, organize the meeting party and to enjoy delicious European food cooked by professional European cooks of the restaurant in a warm, gentle landscape with swimming pool view and garden view of the Hotel.
Opening time: From 6:00 to 22:00 PM